Agia Marina
Agia Marina Nea Kydonias also spelt as Aghia Marina AND possibly Ayia Marina, is one of the best beach resorts in Crete and is a very popular tourist destination just 10 kilometres west from Chania town. Being a north coast resort it has a fabulous golden sandy beach that seems to stretch endlessly. Agia Marina Nea Kydonias is next to the equally popular Platanias and it is difficult to tell where this beach resort stops and Platanias starts.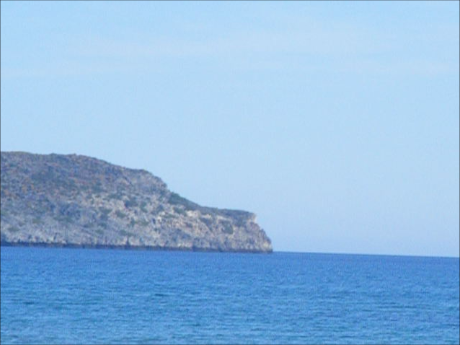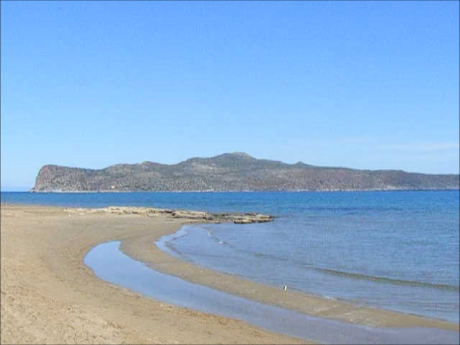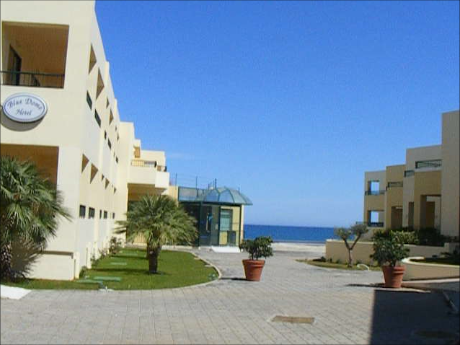 If you want a great beach holiday on Crete and simply love to stretch out on soft golden sands then this is the place for you. The beach is very long, with many sunbeds for hire.

Opposite the beach, the small inhabited island of Theodorou is home to a number of the protected Kri Kri (wild goats) of Crete. Theodorou Island is said to be a petrified sea monster, rising from the sea with its gaping mouth wide open.

Hotels in
Agia Marina
There's no shortage of accommodation including some gorgeous luxury hotels as well as plenty of 3 star accommodation in smaller hotels, studios and apartments. This makes this beach resort a great place to stay for a holiday in Crete.
There are 4 and 5 star luxury hotels in Agia Marina including the fabulous adults only Thalassa Beach Resort and Spa. Another great adults only hotel in Crete is the Santa Marina Plaza which offers a romantic setting for couples.
For families with children there is also plenty of choice in luxury hotels and also many budget hotels in Agia Marina and a choice of apartments, studios and rooms to rent.
A great place for families with kids is the all inclusive Atlantica Caldera Village, which offers great value for money.

You'll also find private villas in the village and its surrounding areas of Platanias, Nea Kydonias, Maleme  and Chania.

Restaurants in
Agia Marina
You'll be spoilt for choice with the amount and variation of the restaurants, tavernas and cafe and snack bars in this beach resort. In the evenings you'll have no shortage of nightclubs, cocktail bars and music bars to keep you entertained.
We like the Meraki Tavern which serves traditional Greek and Cretan dishes such as Beef Stifado and Lamb Kleftiko.
If you prefer fish, you might like to try Palirria which serves wonderful fresh fish overlooking the sea. It is the perfect spot to watch the sunset over the bay.
For lively family fun try the Almira Beach Bar and Restaurant which not only serves great food and gorgeous cocktails but has live music on many nights.
We also like the wheelchair accessible Romeos Family Restaurant which is very kid friendly as it has its own children's play area. The family run restaurant is friendly, welcoming and very good value for money.

Crete Attractions Nearby
The best Crete attractions nearby are many and varied. You'll be spoilt for choice with things to do in Crete if you choose this beach resort as your base.
Agia Marina is set in the perfect location to visit the best Crete attractions nearby including the Venetian harbour town of fantastic Chania with even more choice in wining, dining and nightlife. And Chania is just a short bus or taxi ride away for shopping, strolling and visiting the museums, market and magnificent harbour front.
For a more traditional view of Cretan life go to the traditional village of Pano Agia Marina just above the beach resort. Here you'll find some old world charm and a more traditional Cretan village.
Another excursion convenient from this beach resort is nearby Maleme. It is to the west of Agia Marina where you'll find the World War Two cemetery for the German soldiers who lost their lives during the battle of Crete. Also to the east and close to Chania town the British cemetery of Souda bay is the last resting place for the British and her allies.
One of the best things to do in Crete if you are staying in the Chania region is to visit the fantastic Botanical Park of Crete, It is one of best Crete attractions for visitors of all ages and is located close to Chania.
You'll find the Botanical Park of Crete in the foothills of the beautiful White Mountains on the lovely scenic road leading up to Omalos (the starting point of the Samaria Gorge). The botanical gardens are just 15km from Chania Town, just past Fournes.
If you want water park fun then head for the fantastic Limnoupolis Water Park. If you have a hire car it is easy to find the water park as it is well sign posted.
The Sat Nav coordinates are 35.4681670, 23.9699570

You can also get there by local bus. But a great way to get there is to ride on the fun bus.

Ask for details at your hotel, apartments or tourist office.
Agia Marina

Beach

The beach and the resort are extremely popular and can get very busy at the height of the season – July and August. But the long sandy beach is big enough to accommodate the crowds who adore this resort for the accommodation, facilities, and food and drink at the plentiful sea front tavernas and bars.

On the beach itself visitors can also enjoy all the facilities you would expect for swimming, sunbathing and water sports.
Getting to
Agia Marina
Flights to Chania Airport make it easy and quick to get to this resort but any flights to Heraklion Airport will mean a longer drive. Also arriving by sea at the Souda Port at Chania will make getting to this beach resort quicker than arriving at Heraklion Port.
---
Just Some of the Reasons We Love Crete...

Did you love this page? Please share it with your friends!
---
© Copyright All Original Content 2006 - 2023 Completely-Crete.com. All Rights Reserved. Reproduction in whole or in part without permission is not permitted.

Click here to learn about developing your own money-generating website
from Solo Build It! - even with little or no web experience!