The Astrea Restaurant has probably one of the best views of the island of Crete…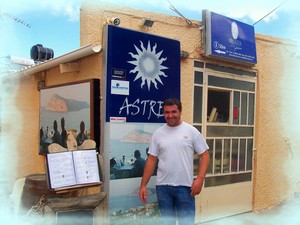 Astrea restaurant is perched on the hilltop of the charming and very quaint old village of Pano Platanias. It boasts the best view in the Chania area of Crete and we tend to agree! You can see the small inhabited island of Theodorou that is home to a number of the protected Kri Kri (wild goats) of Crete. Theodorou Island is said to be a petrified sea monster, rising from the sea with its gaping mouth wide open.
Wandering around the old village and admiring the charm of it all you are greeted by a member of the family who own the Astrea and urged to take a look at the best view in Crete.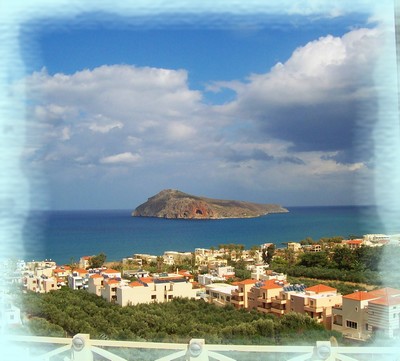 With much jaw dropping and breath taking as you gaze from the vantage point of the restaurant you are given a refreshing and complimentary glass of cold orange juice. Sliced fruit on small plates are also offered as you continue to admire the stunning view. Maybe not the subtlest forms of persuasion to dine in the restaurant but nevertheless one of the most compelling.
Succumbed by their persuasion we ordered a meal. As we dined we watched with amusement how the staff members hooked unwitting tourists, reeled them in with charm and a cool drink and caught them hook, line and sinker.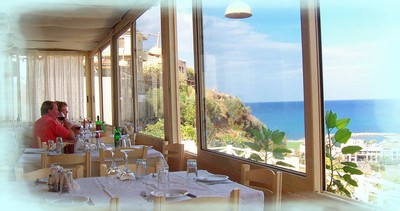 The food, service and general ambience of this wonderful restaurant needs no further persuasion to return. We had a delicious plate of Chicken Souvlaki - grilled and skewered chunks of tender chicken, intermingled with sliced red pepper and sliced red onion. We also ate the recommended dish of the day: Exohiko, pork pieces oven baked with onions, peppers and feta cheese in paper - a mouth-watering and delicious dish.

Realising we were a soft touch, Dimitris, the restaurant owner persuaded us to partake of a pudding with coffee. We tucked in to homemade crème caramel and a delicious Greek coffee each.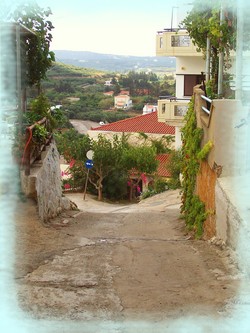 Stuffed full, we were ready to leave but we were presented with yet another pudding! A complementary biscuit type cake topped with cream and chocolate sauce was brought to our table. It too was delicious.
Stuffed, we waddled out of the restaurant and down the winding lanes of the old village, swearing to return to the fabulous Astrea restaurant.
You can find the Astrea Restaurant in the wonderful old village of Platanias (just up behind the Platanias Town square), just 10 km from the magical town of Chania.

If you love Crete then you'll love the romantic Greek island of Santorini. Visit our sister site of Simply Santorini. Com for all you'll need to know about Santorini.
---
Just Some of the Reasons We Love Crete...

Did you love this page? Please share it with your friends!
---
© Copyright All Original Content 2006 - 2023 Completely-Crete.com. All Rights Reserved. Reproduction in whole or in part without permission is not permitted.

Click here to learn about developing your own money-generating website
from Solo Build It! - even with little or no web experience!