Douliana or Ntouliana…
Douliana, also known as Ntouliana, is a pretty little quaint village in the prefecture of Chania on the Greek Island of Crete.
The variation in spelling is because the translation from the Greek language to the English language is not an exact science.

Many letters in the Greek alphabet do not translate exactly to a letter in the English alphabet.
So mapmakers, road sign writers, and guidebook authors translate the Greek alphabet place names to what they believe is a phonetic counterpart in the English language.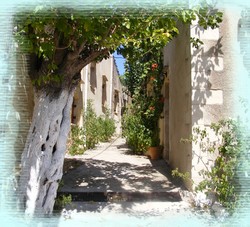 So this is why you'll see Douliana sometimes spelt as Ntouliana on road signs and on maps.
Douliana lies just 20km east of Chania and is close to the beach resorts of popular Almyrida and Kalyves.
The lovely village has a tiny church, traditional stone houses and dry stone walls encasing olive groves and carob trees. The whole area is very beautiful with tremendous views overlooking Souda Bay and the White Mountains.
A fine selection of luxury villas for rent lies at one end of the village of Ntouliana.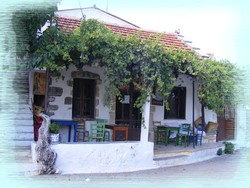 VILLAGE KAFENION
For such a quiet, peaceful and tiny village there is a wide choice of places to eat and drink. A tiny rustic traditional Kafenion offers the thirsty traveller a variety of drinks including traditional Tsikoudia (Raki) and Ouzo.
Each drink ordered is served along with a small meze of local foods such as Feta cheese and olives or sliced cucumber and tomatoes. There's also a little snack bar attached to the mini market.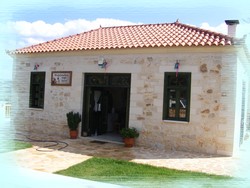 IVGORITIS RESTAURANT
The first restaurant you are likely to come across is the wonderful Ivgoritis with spectacular views over the hills and valleys of the Apokronos.
Formerly a newly built traditionally styled Mezedhopolio (Mezedopwleio) - a place to buy traditional mezes or small plates of traditional food, this changed hands late in 2009. We haven't tried it yet, but understand the food and service are highly recommended.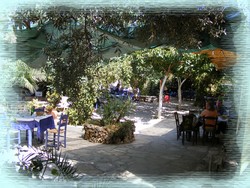 DOULIANA TAVERNA
There's also a fabulous Taverna serving tasty dishes from the Cretan diet named the Douliana Taverna in the heart of the village. Click here to read our own Douliana Taverna Restaurant Review.
Alongside the Douliana Taverna there is a wonderful track used by walkers, hikers and cyclists that you can take down the hillside to the beaches of Kalyves and Almyrida. Overlooked by the fabulous White Mountains (Lefka Ori), the scenery along the 3km track is simply stunning.
For lovers of nature you'll find lots to interest you with rare wild flowers of Crete along the pathway and glorious birdlife in the sky. We often have up to three or four buzzards circling above our heads as we wend our way down the scenic path from Douliana down to Kalyves along with many other birds.
---
Just Some of the Reasons We Love Crete...

Did you love this page? Please share it with your friends!
---
© Copyright All Original Content 2006 - 2023 Completely-Crete.com. All Rights Reserved. Reproduction in whole or in part without permission is not permitted.

Click here to learn about developing your own money-generating website
from Solo Build It! - even with little or no web experience!