Getting around Crete
This Getting around Crete page is from the Holidays in Crete section of the Completely Crete website.
Car Rental in Crete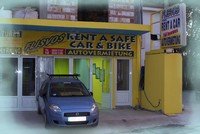 Car hire is probably the best way of getting around Crete to explore this beautiful Greek island. Crete is the largest of the Greek Islands and is bursting with wonderful sights to see. Top of most peoples 'Must See' lists are The Minoan Palace at Knossos, the famous Samaria Gorge, Spinalonga Island, Vai beach and the pretty harbour towns of Chania, Rethymnon and Agios Nikolaos.
There are plenty of good car rental companies and hire car agencies offering everything from small scooters to large 4x4 land cruisers to explore all these sights and more.


See our comprehensive Car Rental Guide for car rental companies in all areas of Crete. We've listed car hire companies in all four prefectures of Crete – Chania, Rethymnon, Heraklion and Lassithi.
Also see our Driving in Crete page for helpful hints and tips about getting around Crete safely.
Quad Bikes, Scooters & Motorbikes in Crete
Many visitors with no previous experience of riding a quad bike, scooter or motorbike readily drive helmetless and often shirtless around the roads of Crete.
Visit Malia, Stalis, Hersonisoss and Platanias in July or August and you'll see groups of bikini clad girls and shirtless boys happily riding scooters and quad bikes.
But each summer Crete hospitals see more than there fair share of accident victims. So if you must rent a bike, wear a helmet at all times and wear long trousers and a jacket given at least a little protection.
Buses in Crete
We love the buses in Crete. Generally they are luxury coaches with air conditioning, very comfortable, usually no more than 2 years old and extremely punctual. And as almost everywhere in Crete has wonderful scenery along its roads you can sit back and relax and really enjoy getting around Crete.
Genuine Cretan music or Greek pop music is normally played on the bus radio too with adds to the experience.
The fares are extremely cheap too.
For example buses travelling from Chania to Rethymnon cost just € 6.00. Fares from Rethymnon to Heraklion are currently € 6.50 and from Agios Nikolaos to Heraklion bus fares cost € 6.20 per person.
The bus stations can get very busy at the height of the season and appear to be chaotic with both locals and tourists trying to find the correct bus. This reaches fever pitch on market days when old ladies dressed in black laden with massive bags of fruits and vegetables try to board ahead of the none existent queue.
Our advice is to relax and enjoy the atmosphere. We have always caught the correct bus and always have found seats so all the pushing and shoving is pointless.
Extra buses are laid on at very busy times for the tourists to make things a little easier.
Generally all buses to all villages and towns set off at the same time – either on the hour or half hour from the bus station so it can be confusing.
Buy your ticket from the office, (this sometimes can be a tiny shop in small villages) before boarding and listen to the tannoy for your bus number. The message is read first in Greek and then in English.
Usually on the front of the bus the destination is displayed in Greek and English.
There is normally an English-speaking conductor on board each bus to collect your ticket. Along the resort routes he or she will shout out names of the hotels so you cannot miss your stop.
Buses start very early in the morning around 6.00am and the majority make their last trips around 9.00pm. So if you want a late night in town you may need to get a taxi back to your resort.
Click here for current Crete Bus Timetables


Taxis in Crete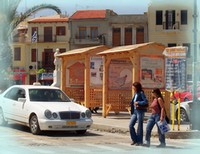 It is compulsory for Taxi drivers in Crete to make and receive a minimum of 3 mobile phone calls per trip. Smoking is optional but drinking Café Frappe is compulsory. Dangling worry beads and religious icons from the rear view mirror are also obligatory. Speeds should not dip below 60 miles an hour.
Only joking!
Seriously, Taxis are an excellent way of getting around Crete. Generally the cars are virtually new and are silver Mercedes. They are extremely comfortable and roomy.
Prices are very similar to what you'd pay in the UK for a taxi ride and fares are subject to government control.
At Chania airport and at Heraklion airport fares to popular destinations are displayed on a large board close to the taxi rank.
Many of the towns and tourist resorts have Taxi ranks. And if after a night out you find you've missed the last bus or cannot drive your hire car because the free Raki has tipped over the limit then just ask the staff at the Kafenion, Taverna or Bar to order a taxi for you.
One thing to note about Taxis in Crete and Greece is that you may have to share your cab with strangers who may be going your way. Don't expect to share the fare though. The Taxi driver will charge you and also the strangers the full fare even if you are going to exactly the same destination!

---
Just Some of the Reasons We Love Crete...

Did you love this page? Please share it with your friends!
---
© Copyright All Original Content 2006 - 2023 Completely-Crete.com. All Rights Reserved. Reproduction in whole or in part without permission is not permitted.

Click here to learn about developing your own money-generating website
from Solo Build It! - even with little or no web experience!