Ivgoritis Mezedhopolio serving the tastiest examples from the Cretan Diet…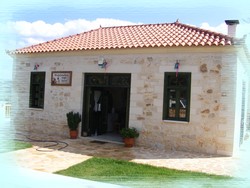 IVGORITIS MEZEDHOPOLIO
The Ivgoritis is found in the pretty traditional village of Douliana also known as Ntouliana in western Crete in the prefecture of Chania.
Douliana is a little off the beaten track but boasts some of the best scenary in the whole of the Greek Island of Crete and is well worth a visit. There are a number of luxury villas offering holiday accommodation in the summer months that blend well into the village architecture and rustic quaint atmosphere.
While visiting this particular area of Crete we recommend you make a stop at the charming little Greek Taverna of Ivgoritis.
Not strictly a taverna as the Ivgoritis is a traditional Mezedhopolio which means it serves small dishes named mezes or mezedhes from the Cretan diet. Along with a range of refreshing drinks like the local beer Mythos or stronger stuff like Tskoudia, (Raki) and Ouzo.
The majority of the lovely dishes served at the Ivgoritis are made from locally grown ingredients.
For example locally grown and collected Horta, (wild greens) are steamed and simply served drizzled with lemon juice and olive oil. Simple and tasty and full of nutrients.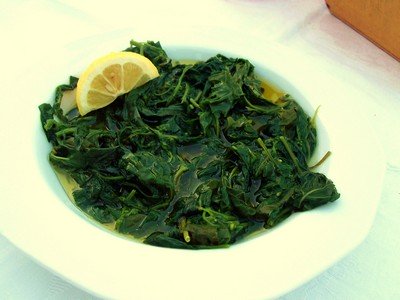 HORTA
Horta are wild mixed greens of many varieties, picked from the fields and hillsides, and even roadsides, often by the women of the village.
See more about Horta here.
The Ivgoritis also uses horta in its small filo pastry Greens Pies which are melt in the mouth delicacies. Also try the small cheese pies which again are very delicious.
Another very local dish offered on the menu is that of Fava which is cooked yellow split peas with olive oil.
For meat lovers there is also plenty of good value choices at the Ivgoritis including grilled chicken, lamb chops and pork Soulvaki. Order any of these with a plate of home prepared and freshly cooked chipped potatoes and you'll have a fabulous feast overlooking one of the best views on the island.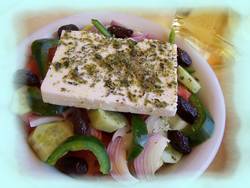 GREEK SALAD
The Greek Salad is also worth a mention as it is very good value and very tasty too. As is usual fresh, tasty tomatoes, crisp mouth-watering cucumber, roughly chopped green pepper, sliced red onion and gorgeous local olives are smothered in olive oil and lemon juice. A tasty slab of feta cheese, sprinkled with oregano sits atop this colourful and tasty masterpiece.
This gorgeous little place is open every day from lunchtime until late except Tuesdays.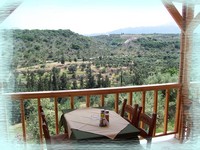 IVGORITIS TAVERNA VIEW
Sit outside and you are assured a panoramic view of the valley beneath with its pine trees, cypress trees, olive grove and citrus groves.
Birdsong and pretty coloured butterflies just add to the sheer beauty of this beautiful place!
We strongly advise you to visit the Ivgoritis if you are in or around Douliana to sample some true Cretan Diet fare.
---
Just Some of the Reasons We Love Crete...

Did you love this page? Please share it with your friends!
---
© Copyright All Original Content 2006 - 2023 Completely-Crete.com. All Rights Reserved. Reproduction in whole or in part without permission is not permitted.

Click here to learn about developing your own money-generating website
from Solo Build It! - even with little or no web experience!