Kritsa a very picturesque and traditional inland Cretan village…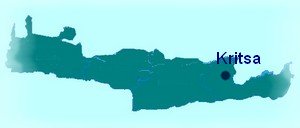 Close to the beautiful town of Agios Nikolaos in the Lassithi region of Crete, Kritsa is a 'must see' for visitors.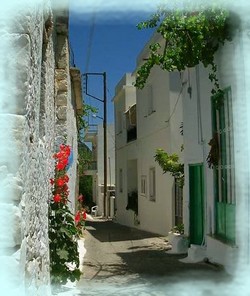 Kritsa is the largest, and one of the most picturesque villages in Crete. You'll find it nestled in the foothills of the Kastella Mountain. Here, the locals work hard at keeping the old Cretan customs and traditions alive, and the village is considered one of the most important centres for folk art and creative crafts. Just as with many generations in the past, the women of the village can still be seen making their intricate crochet and lace items.
This is a great place to buy hand made and unique lace products and other craft items, and is well worth a visit for this alone.
The Church of Panagia Kera
The Church of Panagia Kera (Our Lady Kera) is found just before the village of Kritsa.
It is a three aisled church with a cupola. Typical of a Greek Orthodox Church it is full of icons and frescoes and some of them date back to the 14th and 15th century. These are considered to be some of the finest in Greece and are being restored to their full glory. The church is open to appropriately dressed visitors in the mornings only. (To be respectful women should cover their shoulders, midriffs and knees.)
Cretan Life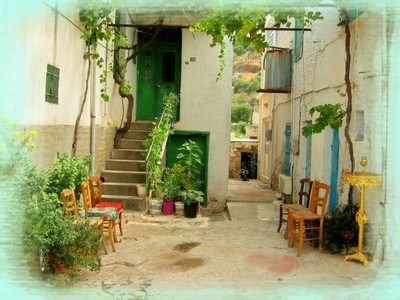 Wandering through the charming village gives the visitor a glimpse of real Cretan life. Children playing happily, cats lazing in the sun, old men sat outside the kafenion sipping their strong Greek coffee, old ladies making lace by hand clothed only in black.

The sounds of braying donkeys, distant cockerels and church bells blend in with the sounds of the locals greeting visitors as well as each other with friendly smiles and a cheery Yassas!.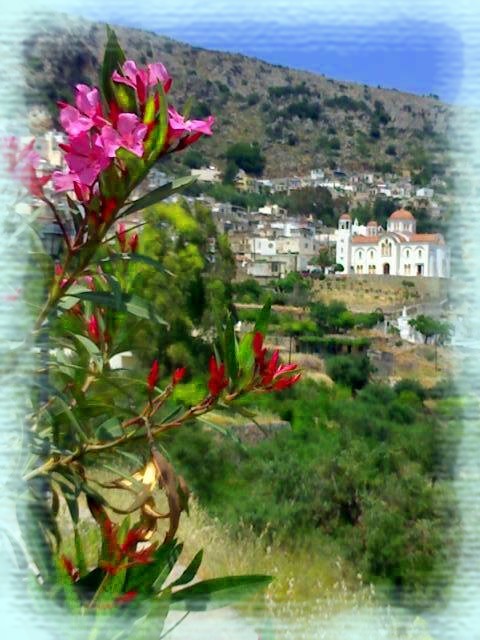 The friendliness of the Cretan people to visitors is renowned. There is even a Greek word for it - philoxenia - meaning to be friendly to those who you don't know. And make no mistake, this friendliness is not just reserved for tourists – it is genuine, old-fashioned kindness and hospitality. Step into this pretty Cretan village and, like all such villages in Crete, you step back in time, where genuine warmth far outweighs the cold hostility unfortunately found in many places these days. A virtually crime free Crete bears witness to this.
Eating and Drinking
The village offers places to sample the traditional Cretan Diet and to try Raki (Tsikoudia). Don't be afraid to ask for the local dish of the day, which may not be on the printed menu. Ask for Dopio Fagito meaning 'local food' and be prepared for a plateful of very tasty food. Wash this down with a glass of Raki (an aid to digestion, the old men claim!) and you'll be some way towards living the Cretan life. If you decide to stay in the village there are a number of hotels such as the Hotels Argiro and Lato, or self-contained apartments.
Car Hire around the area of Lassithi
There are a number of really good car rental companies around the Kritsa area that can give you the freedom to explore east Crete.
A brilliant and cheap bus service KTEL connects Kritsa with many of the villages and towns of western Crete including Agios Nikolaos, Ierapetra, Amoudara and Elounda.

Living in Crete
If you are thinking about living in Crete and buying a property in Crete you will find some excellent real estate agencies to help you with your choice. Check out our Crete Property Guides for property throughout the island.
Whether you are looking for a permanent home, thinking about buying a holiday home in Crete or an investment property there are some really good and inexpensive Crete properties for sale on this the biggest and best Greek Island.
Check out our What, Where and Why guide to Buying in Crete.
It might be useful to take a look at our Crete Property Frequently Asked Questions
---
Just Some of the Reasons We Love Crete...

Did you love this page? Please share it with your friends!
---
© Copyright All Original Content 2006 - 2023 Completely-Crete.com. All Rights Reserved. Reproduction in whole or in part without permission is not permitted.

Click here to learn about developing your own money-generating website
from Solo Build It! - even with little or no web experience!