Best Crete Beaches for Scuba Diving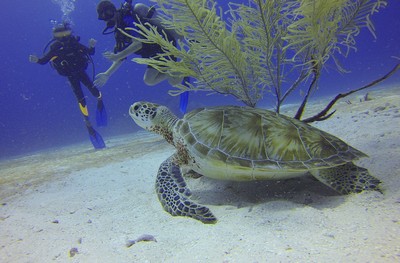 Scuba Diving fans are looking for the best diving sites in Crete that offer an idyllic underwater odyssey. There are some Spectacular Scuba Diving sites with a myriad of magnificent rocky slopes, caverns and cliffs, catering for divers of all levels.
The best dive sites include ancient remains, wrecks, walls, reefs and "drop offs."
For snorkellers there are excellent snorkelling sites scattered around the island too.
What do lovers of scuba diving and snorkelling demand?
---
Scuba Diving and Snorkelling in Crete
What do lovers of scuba diving and snorkelling demand?
Clear waters: Crete is known for its crystal-clear waters, which provide excellent visibility for divers and snorkelers. This enables them to explore the underwater world and observe marine life in detail.
Marine life: Crete's waters are home to a rich variety of marine species, including fish, octopuses, sea turtles, and dolphins. Divers and snorkelers are attracted to areas with abundant marine life, such as reefs and underwater caves.
Shipwrecks: Crete has a long maritime history, and its waters are dotted with shipwrecks that divers can explore. These sites offer a unique diving experience, and they often become artificial reefs that attract a variety of marine life.
Caves and caverns: Crete has many underwater caves and caverns, which provide thrilling diving experiences for advanced divers. These sites can offer unique geological formations and the opportunity to observe marine life that resides in these environments.
Reefs and rock formations: The island's coastline features numerous reefs and rock formations that divers and snorkelers enjoy exploring. These natural structures provide habitats for various marine species and create exciting underwater landscapes.
Accessibility: Divers and snorkelers often look for sites that are easily accessible, either from the shore or through a short boat ride. Crete has many beaches with shallow waters, making them suitable for beginner divers and snorkelers.
Dive centers and facilities: Crete has numerous dive centers and facilities that offer equipment rental, dive courses, and guided trips. Divers and snorkelers typically look for centers with experienced instructors, well-maintained equipment, and a range of diving packages.
Some popular diving and snorkeling sites in Crete include:
Chania area: Elafonisi Beach, Stavros Beach, and the Wreck of the German Airplane (WWII)
Heraklion area: Dia Island, and Agia Pelagia.

Rethymnon area: Plakias, and Skinaria Beach,

Lasithi area: Sissi, Spinalonga, and the Blue Hole in Agios Nikolaos
Remember to follow local regulations and safety guidelines, and always dive or snorkel within your skill and experience level.
---
Chania Area: The Wreck of the German Airplane

The Wreck of the German Airplane, also known as the Messerschmitt Bf 109 or Me 109, is a popular dive site in the Chania area of Crete. The German aircraft was shot down during World War II and now lies at the bottom of the sea, attracting divers interested in exploring this historical site.
Location: The wreck is located off the coast of Chania, near the Akrotiri Peninsula. It is easily accessible from Chania town, which is a popular tourist destination on the island.
Depth: The aircraft wreckage lies at a depth of approximately 24 meters (79 feet), making it accessible for intermediate and advanced divers.
Visibility: The clear waters of the Mediterranean Sea around Crete generally offer good visibility, which allows divers to observe the wreck and the marine life surrounding it in detail.
Marine life: The wreckage has become an artificial reef, attracting a variety of marine life, such as fish, octopuses, and invertebrates. Divers can expect to see different species of fish, including groupers, wrasses, and damselfish, as well as crustaceans and other sea creatures.
Condition of the wreck: The Messerschmitt Bf 109 is relatively well-preserved, considering the time it has spent underwater. Divers can still identify various parts of the plane, such as the wings, fuselage, and cockpit. However, due to the fragile nature of the wreck, divers are advised not to touch or disturb the site.
Skill level: Given the depth of the wreck, it is recommended for intermediate to advanced divers. A good level of buoyancy control is essential to avoid damaging the fragile wreck or stirring up the sediment, which could reduce visibility.
Diving facilities: Several dive centers in the Chania area offer guided dives to the Wreck of the German Airplane. They provide equipment rental, transportation, and experienced guides to ensure a safe and enjoyable experience.
Remember to follow local regulations and safety guidelines when diving, and always dive within your skill and experience level.
---
Platanias Beach
 Platanios Beach is a popular sandy beach just 11 kilometres west of Chania. The beach is a long stretch offering full amenities with great food and drink at the sea front tavernas and bars. It has great facilities for swimming and sunbathing and water sports. 800 metres across the bay is the island of Thedorou, with excellent scuba diving sites.
There are at least 2 scuba diving centres in the Platanias area.

The nearest village is Platanias.
---
Stavros Beach
Stavros Beach is located 15 kilometres northeast of Chania at the very north of the Akrotiri peninsula. Famous as the main location for the film "Zorba The Greek", there are actually two beaches in Stavros.
A breathtakingly beautiful little bay as well as a longer almost deserted sandy beach. The main beach is set in a circular sandy bay nearly cut off from the sea, and therefore very sheltered. It is backed by several tavernas and overlooked by the mountain and is well organised.
The other quieter beach, on the north side of Stavros, is known as Pachia Ammos and is excellent for swimming and snorkelling as it is a wide sandy beach fronted by rocks in places, leading to smooth limestone under the clear water.
The nearest village to Stavros Beach is Stavros.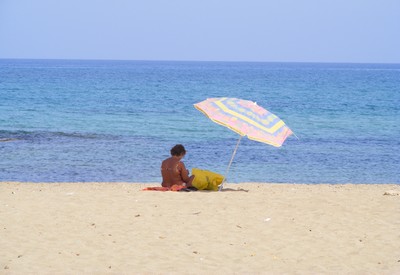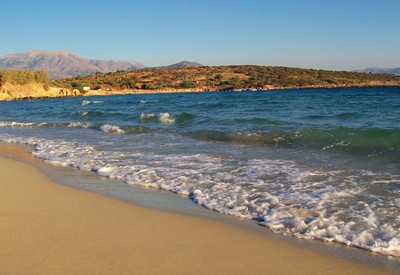 ---
Elafonissi Beach
Considered as one of the best beaches in Crete, Elafonissi Beach is just beautiful. Elafonissos is a small islet at the southwest coast of the region of Chania. Elafonissos Lagoon can be reached by boat from Paleohora or by car from the village of Vathi. The Beach has pink sand and very clear shallow waters. Just a couple of kantinas can be found on the beach and no accommodation is offered, but camping is allowed. Elafonissos has fabulous snorkelling sites.
The nearest village to Elafonissi Beach is Paleohora.
---
Frangokastello Beach

Located on the south coast of the region of Chania there are three different beaches in the same area of Frangokastello. The pebbly beach to the west has a rocky seabed and is excellent for snorkelling. The sandy beach in front of the castle has beautiful white pinkish sand and has very shallow and clear waters and is ideal for families with children. Well organised, it offers accommodation facilities, food and drink and facilities for swimming and sunbathing (sun beds, umbrellas).
Finally there is "Orthi Ammos" sandy beach, which you can find within a ten-minute stroll east of the castle. This is considered one of the best beaches in Crete. It is a stunning beach with big sand-dunes and crystal clear water. The far eastern part of this long beach is sometimes used by naturists.
The nearest village to the Frangokastello Beaches is Frangokastello.
---
Rethymno Town Beach
Rethymno Town Beach stretches seemingly endlessly more than 20 kilometres along the sandy shore at Rethymno. It offers full facilities including lively beach bars and many Tavernas, and is often busy and bustling. Plenty of watersports facilities can be found on this superb beach. There is also a diving centre, diving trips and diving lessons available.
The nearest town to Rethymno Beach is Rethymno Town.
---
Gerani Beach

Just 6 kilometres west of Rethymno town, Gerani is a quiet, pebbly beach, within a small cove and is good for snorkelling. It is left very natural and is not much organised offering only food and drink in the tavern beneath the bridge of Gerani. It is a beautifully picturesque setting where you can enjoy the natural environment far from the madding crowds.
The nearest village to Gerani Beach is Gerani.
---
Gouves Beach

The spectacular sandy beach in front of the village Kato Gouves, in the Iraklion region, is a popular choice for the visitor who demands a fully organised beach. Offering many activity opportunities such as wind surfing, water skiing, jet skis, banana rings, parasailing and pedalos it is the perfect choice for water sport fans. It also has scuba diving centre!
Sunbeds and umbrellas allow you to stretch out and soak up the sun after energetic activities. It has been awarded by the EU Blue Flag for its clean golden sand, its crystalline shallow waters and the facilities it offers.
The nearest village is Gouves.
---
Agia Pelagia Beach

Aghia Pelagia resort lies 16 kilometres northwest of the town of Heraklion. The beach is long and has beautiful golden sand and is one of the most beautiful places for scuba diving in Crete. The beach is protected from both the Meltema (northern summer winds) and from northwest winds allowing almost constant calm, clear waters. It is a very well organised beach with plenty of amenities for swimming, sunbathing along with water sport facilities. It is known as one of the best beaches of Northern Crete.
The bay of Aghia Pelagia is protected from the winds and the sea is almost always calm. There is a dive centre, diving trips and scuba diving lessons available for the inexperienced right through to the expert.
The nearest village to the beach is Agia Pelagia.

---
Anissaras Beach
Anissaras Beach is a sandy beach close to the popular tourist resort of Kato Gouves. It is located 20 kilometres east of the town of Heraklion. The seabed is partially rocky, which makes it ideal for snorkelling. It is a well-organised beach and has all the facilities for swimming, sunbathing and watersports. The far end of the beach is quieter if you prefer a little more privacy.
The nearest village to Anissaras Beach is Kato Gouves.
---
Souda Beach

On the south coast of Crete in the region of Rethymno, Souda Beach is a lovely sandy cove. It is found just 3 kilometres west of the popular tourist resort of Plakias. It is great for snorkelling near the surrounding rocks. The beach itself is well organised with sun loungers and umbrellas and is much less crowded than Plakias.
The nearest village to Souda Beach is Plakias.
---
Plakias Beach

Plakias beach is located on the Southern coast in the tourist resort of the same name. It lies 40 kilometres south of Rethymno. This beach is just a beautiful example of a vibrant beach offering soft sand, clean waters and all the facilities to make an enjoyable beach experience. Sun beds, umbrellas, various water sports including diving excursions and diving lessons are offered. Sea front tavernas and beach bars line the beach meeting the needs of hungry and thirsty visitors. The eastern part of the beach is kept for nudists.
The nearest village is Plakias.
---
Matala Beach

Matala is one of the most famous beaches of Greece and is found on the south coast of the Heraklion region. The beach of Matala is situated within an area of unique natural beauty. It is a spectacular setting surrounded by caves or tombs cut out of the rock. The caves were created as a Roman and Byzantine cemetery, and during the 60's and 70's became the temporary home to peace loving hippies who sought refuge from the materialistic world.
Joni Mitchell, Cat Stevens, Bob Dylan and Janis Joplin all spent time here composing their songs in the hippie era.
Famed also for several ancient shipwrecks, mainly of the Roman period, that have been discovered here, the beach is very popular. The beach itself has light golden sand with sunbeds and umbrellas for hire. The swimming and snorkelling are brilliant and for divers there are underwater remains of the Roman port on both sides of the rocks.
The nearest village to Matala Beach is Matala.

---
Vai Beach

Vai Beach, of Bounty chocolate TV ad fame, offers palm trees, soft golden sand, and clear turquoise water to give it that Caribbean island feel. It is 25 kilometres east of Sitia in the far eastern coast of the region of Lassithi. The beach and surrounding palm forest is simply stunning. The exotic nature of this area attracts thousands of visitors, which can make it very crowded during the high season.
The beach is well organised and has been awarded a blue flag. The surrounding rocky hills to the north and south along with a rocky islet nearby are ideal for snorkelling. There is also a scuba diving club at the beach.
The nearest village to Vai Beach is Paleokastro.

---
Just Some of the Reasons We Love Crete...

Did you love this page? Please share it with your friends!
---
© Copyright All Original Content 2006 - 2023 Completely-Crete.com. All Rights Reserved. Reproduction in whole or in part without permission is not permitted.

Click here to learn about developing your own money-generating website
from Solo Build It! - even with little or no web experience!