Hiking the Agia Irini Gorge
This is all about our personal experience hiking the Agia Irini Gorge.
You'll soometimes see it spelt as the Aghia Irini Gorge or even Agia Eirini Gorge on some Crete maps or road signs.
However it is spelt the Agia Irini Gorge is the little but perhaps prettier sister to the more famous Samaria Gorge as we were to find out.
My husband Graham and me – Alison, were all set to announce that we'd triumphantly hiked through the famous Samaria Gorge. A very proud achievement for anyone who's completed this 16k hike through the most spectacular gorge on Crete and certainly something to brag about. With a very early pick up of 5.30am we joined our tour bus compatriots in the centre of Chania.
With everyone boarded on the bus and in the darkness we made our way up to the White Mountains (see our Mountains and Gorges page) and the village of Omalos.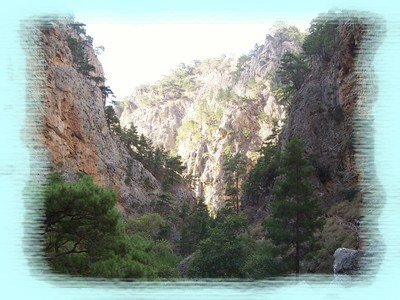 Throughout the journey our guide had explained what to expect from the Gorge, the rules of the National Park, suggested timings for each section of the walk, what pitfalls (pardon the pun) to avoid, what tips to follow and how our spectacular day would unfold before our very bleary eyes.

Pumped up with anticipation and energised by a breakfast of an apple and banana we were by now raring to go!
But fate played a hand and it was not to be. The first light sprinkling of rain we'd seen since early May caused the iconic Samaria gorge to become impassable.
Impossible! We muttered with the rest of the assorted would be braggers on our tour bus. Our tour guide repeated that because of the rain the gorge had been closed for the day and was deemed impassable.

"It's impossible that it's impassable!" cried our self-proclaimed leader, speaking for us all and waving his walking pole defiantly. The heavily worn walking boots, thick socks, khaki shorts and matching rucksack and Sergeant Major manner made him our leader by virtue of the fact that he 'looked the part'. Graham and I and most of the other bleary eyed 'walker wannabes' sported an assortment of trainers, t-shirts and shorts.
Disappointment, coupled with the sheer disbelief that a few specks of rain could force the closure of the famous Samaria Gorge, soon gave way to excited anticipation. Our marvellous tour guide had a proposal for us. Instead of wasting the whole day and returning to Chania, heads bowed in the shame of defeat, would we like to tackle another gorge?
With the bulldog spirit of the mostly Brit tour bus group and our British inbuilt resilience to rain, we could not say no.

A few frantic mobile phone calls later we were now on our merry way to tackle the challenge of the Agia Irini Gorge. Not as famous, not as long and not as busy as its big sister the Samaria gorge, the Aghia Irini Gorge would be our challenge for the day.
The Agia Irini Gorge (also known as the Agia Eirini Gorge) is about 7 kilometers long and is one of the most incredible and impressive sights I've ever seen!
We were all pleased our day would not be wasted and saw it as warm up exercise for the Samaria Gorge that we were sure we would conquer someday soon.

The wooded gorge, with almost sheer walls rising on both sides, is a haven for fabulous flora and fauna. The aroma of wild herbs filled my nostrils, along with the cool mountain fresh air. The rain had long since disappeared and the weather turned out to be a very pleasant temperature to tackle the gorge.
The sun came out, and we were gently shaded by the wooded walls of the beautiful gorge of Agia Irini. Our esteemed and experienced guide assured us it would only take us three short hours to complete.
The route is straightforward and follows a dried-up river bed for the most part, but it certainly proved to be no walk in the park.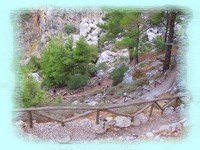 There are some difficult parts to negotiate. How I envied the chap with his thick socks and waking boots. My ankles and knees were getting a right bashing as I scrambled over boulders, clambered down craggy paths and stumbled over very stony ground. No pain, no gain...
The scenery throughout the gorge was simply stunning. Every time we looked up from our feet we were met with yet another new and amazing view to admire and for Graham to photograph. (We hope you like them).
We completed our hike through the gorge in the acceptable time of 3 hours and 15 minutes in front of a few stragglers but well behind the Sergeant Major, who sat triumphantly, cool Mythos beer in hand, outside the small Taverna found at the end of the gorge. He greeted each one of the stragglers with a raised glass and a gracious 'well done'.
With hot, throbbing feet and raging thirst we sat for a while and awaited the stragglers.
Thirst quenched but still with hot feet, we awaited our tour leader, who'd stayed in the gorge to make sure everyone was out and safe.
With all accounted for and no injuries, (surprising really, I'd have laid odds on someone at least spraining an ankle over the rough terrain of the hike), we marched triumphantly to our bus.
But this was not the end of our adventure.

We were taken to the beautiful little resort of Sougia just 15 minutes drive away. A tiny resort with a handful of tavernas, rooms for rent, and one or two tourist shops.
Sougia was a pleasant surprise. Located on the south coast of Crete it took us no time at all to strip to our beach wear and plunge into the crystal clear waters of the Libyan sea!
With time for sunbathing and time for a fabulous meal of Souvlaki and Greek salad at the cutest Taverna with the cutest waiter, it was the end to a perfect day. Click to read more about lovely Sougia
As we travelled back to Chania we all agreed that we'd tackle the Samaria Gorge next spring. And we did!

---
Just Some of the Reasons We Love Crete...

Did you love this page? Please share it with your friends!
---
© Copyright All Original Content 2006 - 2023 Completely-Crete.com. All Rights Reserved. Reproduction in whole or in part without permission is not permitted.

Click here to learn about developing your own money-generating website
from Solo Build It! - even with little or no web experience!