Elounda – Lassithi, Crete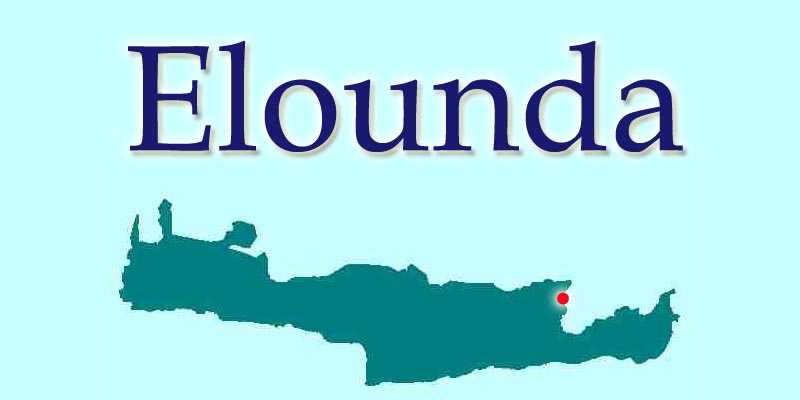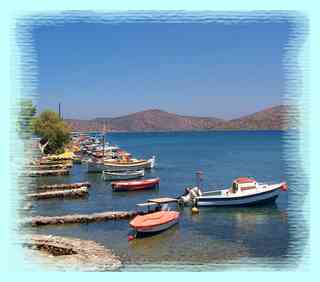 Elounda (alternative spelling Elounta) is a stunning example of a coastal village on the beautiful Greek Island of Crete. Elounda is close to the cosmopolitan town of Agios Nikolaos in the Lassithi prefecture. It is a quaint fishing village with gentle tourism.
Elounda is the famous setting of both the 1970's BBC TV series 'The Lotus Eaters' and 'Who Pays the Ferryman?' The idyllic setting drew people not only to watch the series but also to head for Elounda for their holidays. Elounda still remains extremely popular with visitors.
Elounda has again been popularised by the brilliant novel The Island written by Victoria Hislop about the nearby former leper colony of Spinalonga Island.
The village of Elounda has a clock tower and a lovely church, typical of the Greek Orthodox religion with many icons, gold chandeliers and colourful frescos adorning the pretty church.
There are plenty of little shops in Elounda selling everything you could need for an enjoyable holiday plus some gorgeous souvenirs to take home. The jewelry shops are particularly tempting with their dazzling array of gold and silver pieces that are locally crafted. There are also craft shops selling traditional embroidered and woven goods, herbs and spices and Raki (Tsikoudia).
Places to See in & Around Elounda
Served well by the efficient bus service KTEL Elounda is a scenic coastal bus ride from nearby pretty Aghios Nikolaos and picturesque Plaka.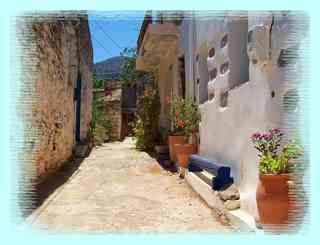 Many visitors to Elounda choose to take the opportunity to cross to the tiny island of Spinalonga. Made famous by the brilliant novel by Victoria Hislop – 'The Island' - Spinalonga is a place with a dramatic and varied history finishing up as Europe's last leper colony. Boat trips depart from the quayside every half hour during the season.
Above the village of Elounda you can take the winding donkey tracks that lead up to quaint traditional village of Pano Elounta (Upper Elounda). Here times seems to have stood still. Pano Elounda has been given European Heritage Site status and is being preserved in a traditional way. If you can walk the uphill path from Elounda you can enjoy spectacular views from Pano Elounta and have a refreshing drink in one of the traditional kafenions.

The modern day village of Elounda sits on the site of the ancient Dorian city of Olous (or Olounda). The ruins of ancient Olous can be seen lying under the sea nearby Elounda Village and Shisma. Some remains of the city can be seen from the shore in Elounda but snorkelling or scuba diving are the best options.
Food and Drink in Elounda
There are dozens of restaurants and bars located in and around the village of Elounda offering refreshment to visitors. You can dine out or enjoy a drink at a traditional ouzeria, small quaint kafenions, tempting tavernas or ultra modern bars and restaurants. You really are spoilt for choice here in such an idyllic setting.
LOTUS EATERS RESTAURANT

Whether for a lunch or dinner come and relax on our terrace with beautiful views of Elounda Bay.

Enjoy a good selection of fresh fish, Greek and international cuisine.



Our food is produced with special care and our service is friendly and professional. We speak English, German and French. The restaurant is located approximately 250m from the main square along the seafront, east of the village. It can also be accessed from the main road down steps or from the west along the seafront walking into the village.

We are looking forward to your visit!
Beaches
There are a number of convenient and clean, blue flag beaches in and around Elounda village that are ideal for swimming and some watersports. The main beach is Elounda Municipal Beach and it is the closest to the centre of the village. It can get quite crowded in the height of the summer so you may choose to explore further the Elounda Rocky Beach. These beaches are featured in our Best Beaches in Crete Guide.
Accommodation in Elounda
Elounda has a huge array of luxury hotels to choose from. Boasting a celebrity clientele that include pop stars, Royalty, film stars and world politicians Elounda luxury hotels offer discerning clients the best that Crete has to offer.
Click Elounda Accommodation to find your perfect place to stay in Elounda.
---
Just Some of the Reasons We Love Crete...

Did you love this page? Please share it with your friends!
---
© Copyright All Original Content 2006 - 2023 Completely-Crete.com. All Rights Reserved. Reproduction in whole or in part without permission is not permitted.

Click here to learn about developing your own money-generating website
from Solo Build It! - even with little or no web experience!