Stylos - Chania, Crete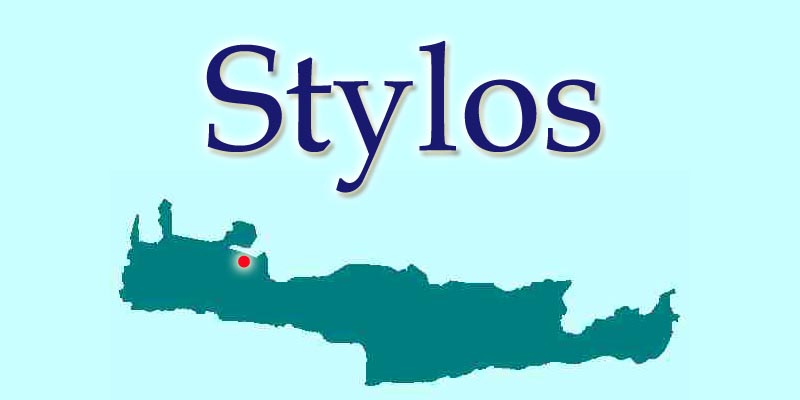 Stylos or Stilos
Stylos is a traditional Cretan village found in the Apokoronas area, close to Chania here on the Greek Island of Crete. Stylos is famous for its giant plane trees, natural spring water and Diktamos Gorge.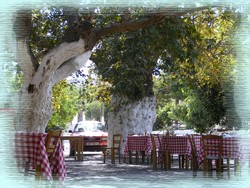 STYLOS PLATIA PLANE TREES
Diktamos Gorge
Known as the Gorge of Diktamou or Diktamos Gorge is a round 10 km long and runs from Katechori to Stylos. It is a very scenic gorge and very 'do-able' for fit and active people and takes around 3 – 4 hours to complete. It is quite shaded by plane trees so is not too unbearably hot in the height of the summer.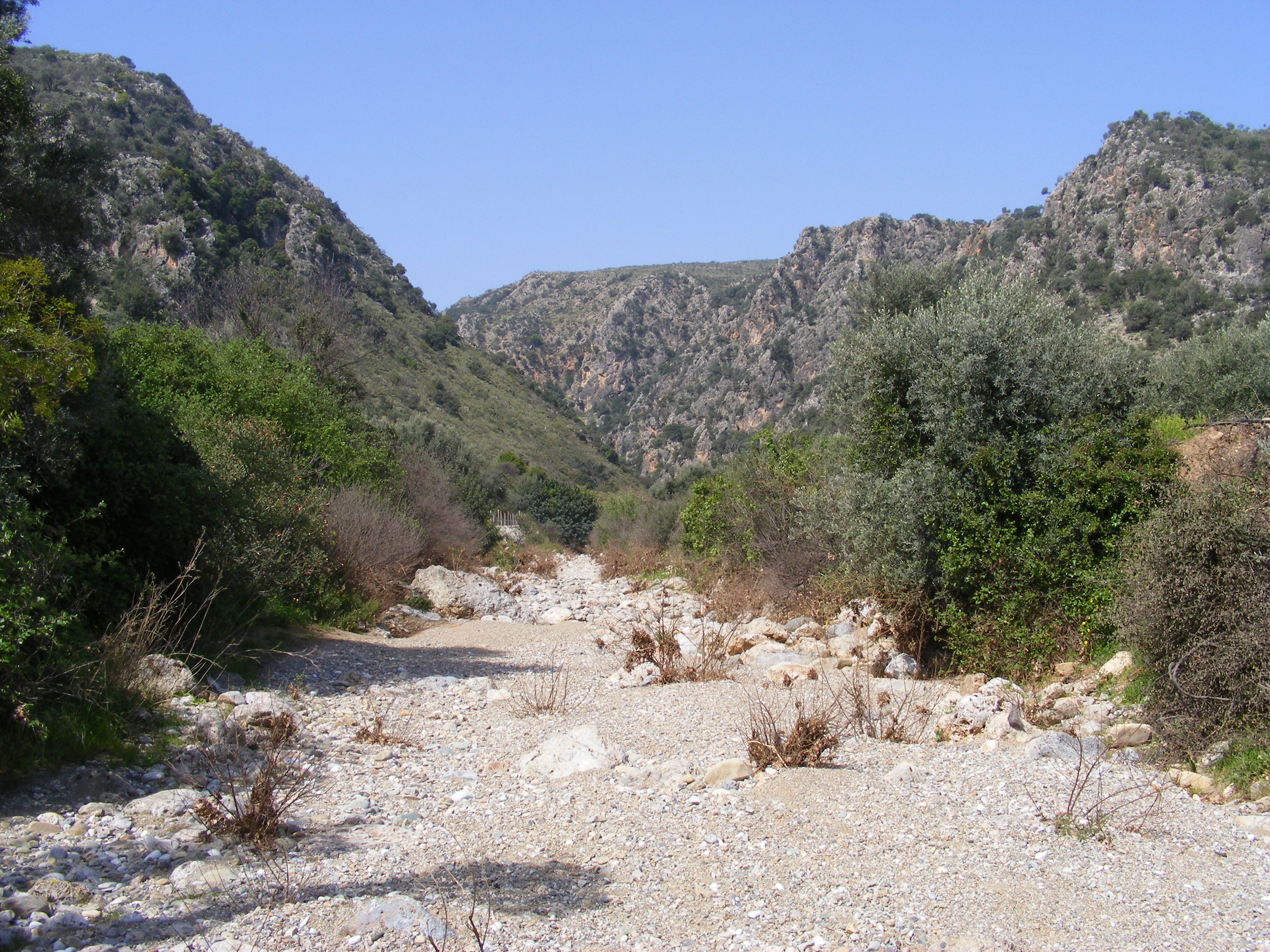 DIKTAMOS GORGE
The flora and fauna is spectacular too in and around the Diktamos Gorge area with many wild flowers of Crete to be found.
We're ashamed to say we haven't yet walked the full Diktamos Gorge, despite the fact that's it is on our doorstep!
We've still not completely recovered from completing the gruelling Samaria Gorge earlier this year and the slightly easier and shorter Agia Irini Gorge.
Stylos Spring Water
Stilos is famous for its natural spring water. The brand name of Samaria bottled water has its bottling plant in Stylos and is available all over the western Crete area.
The company Samaria boasts of its clear water flowing from the snow-covered peaks of the White Mountains.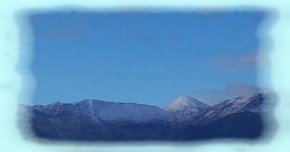 WHITE MOUNTAINS SPRING WATER
"The natural spring water is filtered and enriched with rejuvenating minerals and metals, giving a taste of Crete in every drop of the natural water "SAMARIA". So today we can safely say that our water is one of the most beneficial natural spring waters found anywhere in the world, as it is completely balanced having a low sodium and chloride content, and rich in other elements necessary for the human body."
Stylos Tavernas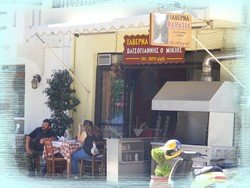 There are a few traditional Greek Tavernas and kafenions in Stylos all serving simple homemade foods from the Cretan diet. The prices are very cheap in comparison to the beach resort tourist tavernas.
Stlyos is not touristy at all and the tavernas are usually half full with locals. So if you want to eat where the locals eat head for any of the Stilos eateries.
The Faraggi (the Greek word for gorge) is simply a gorgeous little place to eat. We enjoyed the lamb with potatoes there, washed down with the strongest homemade white wine we've ever had.
The complimentary Tsikoudia (Raki) and delightful platter of fresh fruits ended a lovely eating experience.
Don't forget to order some spring water too!
We also love the Moustakia which is very popular with hikers and walkers who lunch at the popular Taverna after they've hiked the nearby Diktamos Gorge.
Cyclists too on cycling holidays in the area of Stylos head for the Moustakia for refreshment and reinvigoration after a hard day in the saddle. Read a full Restaurant Review of the Moustakia
Sightseeing Around Stylos
MINOAN TOMB
Fans of old churches, Roman ruins and Minoan archaeology will find plenty to occupy them in and around the Stylos area.
Ancient Aptera with its Roman ruins is around 6km away from Stylos.
The site is well marked off the new road about 15km from Chania and near to the beach resort and fishing village at Kalyves.
Aptera was once one of the most important city-states in the whole of Crete and was actually totally autonomous from around the 6th - 4th century BC, minting its own coins.
There's also a domed Minoan tomb dating back to the post Minoan period nearby, supposedly that of a local ruler.
AYIOS IOANNIS THEOLOGOS
In Stilos, itself you'll find the 12th century church of Ayios Ioannis Theologos (Saint John the Theologian). It is not in use for religious services as the ancient church is undergoing renovations to repair and revive the Byzantine frescos contained within the church. You can peep through the windows though and see the frescos.
The area, like most of Crete has many churches, ruins and fabulous flora and fauna. And Stylos itself is just a perfect example of a picturesque, pretty traditional Cretan village. With the backdrop of the magnificent White Mountains it is in an idyllic setting. The village square is shaded by plane trees. The Plane Trees (platanus orientalis, var. Cretica) are endemic to Crete and are unusually evergreen.
Car Hire in Crete
It's a good idea to book your hire car in advance. During the height of the season in July and August, when demand is at its peak, booking is essential. There are many online services available for getting around in Crete by hire car. One that stands out is holidayautos.co.uk
We really do recommend hiring a car to get around Crete, to enjoy your stay fully. If you're staying in Stylos you can easily get to many of the attractions like the beach resorts of Kalyves and Almyrida, the Venetian harbour town of Chania, the Omalos plateau, the Samaria Gorge, Elafonissi Island, Souda Bay and the many beach resorts in this area by car. There are many companies that offer car hire on Crete, but we think it's a good idea to book in advance with nationally recognised companies who offer the right insurance.
Accommodation in Stylos
There is not much choice of accommodation in Stylos but there some Stylos villas to rent.
Click Stylos Accommodation to find your perfect place to stay in Stylos.
---
Just Some of the Reasons We Love Crete...

Did you love this page? Please share it with your friends!
---
© Copyright All Original Content 2006 - 2023 Completely-Crete.com. All Rights Reserved. Reproduction in whole or in part without permission is not permitted.

Click here to learn about developing your own money-generating website
from Solo Build It! - even with little or no web experience!