Here are the most perfect beaches in Crete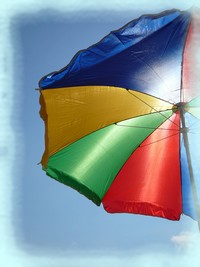 Lots of holidaymakers are looking for the most perfect beaches in Crete that truly offer everything you could ever want. The best beaches will have all the amenities you need to enjoy your day by the sea.
We demand from any amenities a plenty Crete Beach...
Easy Access
No scrambling down rocks or steep cliffs!
Warm Waters
Safe, clean and clear waters ideal for swimming, playing and simply cooling off!
Blue Flag Standard
A Blue Flag awarded beach that insists on high standards of accessibility, safety, cleanliness and environmental management!
Amazing Scenery
Perfect setting to get the perfect tan!
Great Amenities
Close by shower, toilet, and first aid facilities!
Lots To Do
Sun loungers, parasols, beach side bars and tavernas, watersports and lots, lots more...!
The best news is that we've found the most amenities a plenty beaches here in Crete!
Our Amenities a Plenty Beach Guide...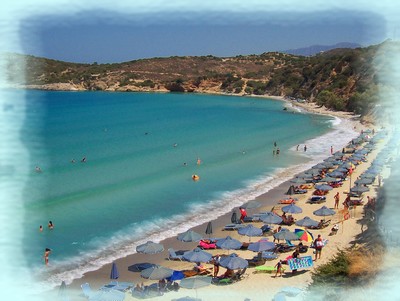 Golden Beach
Chrissi Akti, or Golden Beach, is aptly named as the soft sand has a warm golden glow to it. There's no less than three sandy beaches within a short walk from the town of Chania (sometimes spelt Hania), West Crete.
The beaches here boast clear and shallow waters – perfect for children. One of the beaches has a play area for the kids too, plus great facilities such as umbrellas, sun beds and water sports. It can get quite busy during July and August, particularly at weekends, as many locals cool off in the hottest weather.
The nearest town to Golden Beach is Chania.
Platanias Beach
Platanias Beach is a popular sandy beach just 11 kilometres west of Chania. The beach is a long stretch offering full amenities with great food and drink at the sea front tavernas and bars. It has great facilities for swimming and sunbathing and water sports. 800 metres across the bay is the island of Thedorou, with excellent scuba diving and snorkelling sites.
Check out the nearest village of Platanias.
Aghia Marina Beach
Agia Marina is a very popular tourist resort just 10 kilometres from Chania town. The beach and the resort get very busy at the height of the season – July and August. But the long sandy beach is big enough to accommodate the crowds who adore this resort for the accommodation, facilities, and food and drink at the plentyful sea front tavernas and bars. On the beach itself visitors can also enjoy all the facilities you would expect for swimming, sunbathing and water sports.
The nearest village to Aghia Marina Beach is Aghia Marina.
Aghio Apostoli Beach
Just 7 kilometres west of Chania town you can find three successive sandy coves along the tourist resort of Aghio Apostoloi. The coves are protected from the winds and have extremely clean and clear waters. The beaches are well organised offering accommodation facilities, tavernas and bars along the sea front along with good amenities for swimming, sunbathing and water sports.
Rethymno Town Beach
Rethymno Town Beach stretches seemingly endlessly more than 20 kilometres along the sandy shore near Rethymno on the north coast in the centre of the Island. There are plenty of watersports facilities and all along there are beach bars and tavernas. This beach is often busy and bustling but because of its sheer length you'll always find a quieter spot if that's what you want.
Click on the link to find out more about Rethymno Town.
Gouves Beach
The spectacular sandy beach in front of the village at Kato Gouves in the Iraklion region, is a popular choice for the visitor who demands a fully organised beach. Offering many activity opportunities such as wind surfing, water skiing, jet skis, banana rings, parasailing and pedalos, it is the perfect choice for water sports fans. It also has scuba diving centre!
Sunbeds and umbrellas allow you to stretch out and soak up the sun after energetic activities. It has been awarded the EU Blue Flag for its clean golden sand, its crystalline shallow waters and the facilities it offers.
Gouves Beach is in Gouves Village.
Amoudara
Amoudara is a lovely beach located just 5 kilometres west of the town of Iraklio. It has soft golden sand and crystal clear waters and has been awarded the Blue Flag for its cleanliness. The sandy beach features all the conveniences for its visitors such as toilets, showers, lifeguard's station and first aid station. It has sun umbrellas, sun-loungers and some water sport amenties. Access to the beach is made easier by wooden walkways and ramps.
Amoudara is a small village near the beach.
Stalis Beach
Stalis, also known as Stalida, is around 30 kilometres east from Heraklion Town. Stalis beach is a wonderful beach with soft white sand and crystal clear and shallow waters.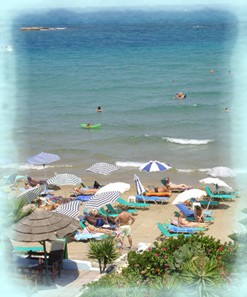 It is perfect for families with children. The sea can become a little bit choppy on some windy days though, so care should be taken at these times.
The resort itself is fantastic and has everything for the family and is very well organised. There are plenty of shops, tavernas and bars just behind the beach.
The beaches on this stretch of coast are all stunning, some of them with perfect soft golden sand and suitable for swimming and others more rocky, perfect for snorkelling.
Plakias Beach
Plakias beach is located on the Southern coast in the tourist resort of the same name. It lies 40 kilometres south of Rethymno. This beach is just a beautiful example of a vibrant beach offering soft sand, clean waters and all the facilities to make an enjoyable beach experience.
Sun beds, umbrellas, various water sports including diving excursions and diving lessons are offered. Sea front tavernas and beach bars vie with each other to meet the needs of hungry and thirsty visitors. The eastern part of the beach is kept for nudists.
The nearest village to Plakias Beach is Plakias.
Hani Kokkini Beach
This beach is just a few kilometres east of Heraklion on the north coast. It's a popular and lively resort, well known for offering plenty of luxurious hotels as well as numerous tavernas, bars and shops.
There are lots of facilities for great swimming and sunbathing. It's fully organised, providing all you could want with a variety of water sports. It is very popular with young people, with the beach bars playing the latest sounds at a volume at maybe a decibel too loud for the over 40's!
Hani Kokkini village is close to the beach.
Aghios Nikolaos Beach
Slap bang in the centre of the cosmopolitan and chic shopping town of Agios Nikolaos in the Lassithi region is the unromantic sounding 'Municipal Beach'. Thankfully it is so much better than it sounds!
It is very popular because of the great facilities offered - including Mini Golf! The beach itself is a bit pebbly, but has clean and clear waters. There's a lot of grass and trees for shade too, with sunbeds, umbrellas and showers. There are also swimming pools, sport facilities and a bar, in case you need to have a cool drink or a light meal. This is definitely a place to chill before hitting the hot spots at night.
The nearest town to the Municipal Beach is Agios Nikolaos (sometimes spelt Aghios Nikolaos).
Elounda Beach
The beach found in the picturesque and ever popular village of Elounda in the region of Lassithi is yet another beautiful beach awarded the Blue Flag by the EU annually.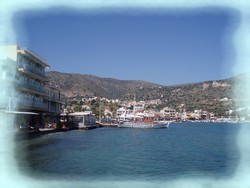 The beach is located just next to the port. It is a fully organised beach with everything provided for a wonderful beach experience.

Ideal for sun worshippers, swimmers and water sports enthusiasts. This small sand and pebble beach, with its crystal clear waters, is always a popular choice.
Check out the village of Elounda.
Makrigialos Beach
The white sandy beach of Makrigialos on the south coast of the Lassithi region is well protected from winds. 'Makri' means long, and 'gialos' means shore.
The beach has clear and clean shallow waters and is ideal for families with small children. You can enjoy swimming and water sports too at this well organised beach. All facilities for swimming and sunbathing such as umbrellas, sun bed rentals are available.
Check out the resort of Makrigialos here.
Return from the Perfect Beaches Page to Crete Beaches
Return to the Completely Crete Homepage
---
Just Some of the Reasons We Love Crete...

Did you love this page? Please share it with your friends!
---
© Copyright All Original Content 2006 - 2023 Completely-Crete.com. All Rights Reserved. Reproduction in whole or in part without permission is not permitted.

Click here to learn about developing your own money-generating website
from Solo Build It! - even with little or no web experience!