Makrigialos a wonderful coastal village and holiday resort …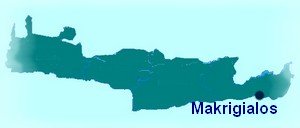 Makrigialos (alternative spellings Makrygialos, Makri Gialos, Makriyialos) is a wonderful coastal village on the south coast of the Greek Island of Crete. Close to the towns of Ierapetra and Sitia in the Lasithi region, Makrigialos is a lovely place to spend some time.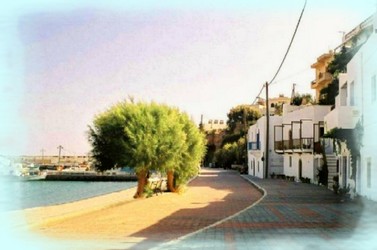 With wonderful gorges to explore, rich flora and fauna to admire and beautiful beaches and coves to enjoy, genuine Cretan hospitality, Makriyialos is an ideal choice for a perfect holiday.

Places to See
Served well by the efficient bus service KTEL Makriyialos is a scenic coastal bus ride from charming Ierapetra and from superb Sitia. Other excursions can take you to nearby Chrissi Island and Koufonissi Island or to the Kapsa Monastery.
Gorgeous Gorges
Just as beautiful as the famous Samaria Gorge in west Crete, there are several wonderful gorges to explore around the area of Makriyialos. If you enjoy flora and fauna, walking and hiking you'll love this area of Crete. There are three gorges to explore around Makrigialos.
Butterfly Gorge
Begins high up on the road to Orino and ends at Koutsouras National Park. The walk actually takes you through a valley with abandoned Cretan villages and is named Butterfly Gorge because of huge number of butterflies to be found there.
Pefki Gorge
Begins just outside the village of Pefki on the road to Agios Stephanos and ends at Aspros Potamos. The gentle walk will lead you along ancient donkey tracks through olive groves and through the impressive gorge steeped on either side by 200 metres of vertical cliffs.
Moni Kapsa Gorge
Begins at the village of Kato Pervolakia and ends at the Monastery of Kapsa. This gorge is the deepest of all three of the gorges and is undoubtedly the most challenging, but you'll be rewarded for your efforts as the scenery is simply stunning and contains some of the richest variety of natural fauna in the region.
Island Hopping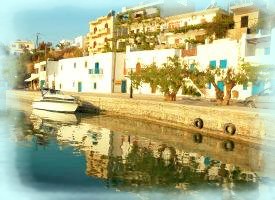 Just a boat trip away lies Koufonisi island also known as Lefki Island. A boat leaves from the harbour in the morning and returns there again in the afternoon. The Island has beautiful beaches and was once an important centre for sponge diving and the production and treatment of porphyre, which is the natural red dye extracted from sea shells. The scarlet dye was used for the clothing of royalty and also Roman emperors!


Kapsa Monastery
The Monastery of Kapsa is just 10 km from Makrigialos and 40 km from Sitia at the exit of the Pervolakia Gorge. Kapsa Monastery was built on the steep rocks overlooking the Libyan sea and has a terrific panoramic view across eastern Crete. Founded in the 15th century and later destroyed by pirates and abandoned, it was later restored by a monk, who added a nave to the church and dedicated it to the Holy Trinity.
Getting there
Makriyialos is accessible from the mainland and the whole of Europe through Iraklion airport, and the many daily ferry services in Heraklion. Nearby Sitia does have an airport but currently it can only take Greek internal flights.
Check out Flights to Crete.
Car Hire around the area of Lassithi
There are a number of really good car rental companies in and around the Makrigialos area that can give you the freedom to explore east Crete.
A brilliant and cheap bus service KTEL connects Makriyialos with many of the villages and towns of eastern Crete including Agios Nikolaos, Ierapetra and Sitia.

Staying in Makrigialos
Despite its small size the village of Makriyialos does offer a choice of accommodation making it a perfect place to stay for a holiday in southern Crete. The long, sandy Makrigialos Beach, featured in our Best Beaches in Crete guide has a selection of hotels, studios, comfortable apartments and rooms for rent along it.
Living in Crete
If you are thinking about living in Crete and buying a property here, you will find some excellent real estate agencies to help you with your choice. Check out our Crete Property Guides for property throughout the island.
Whether you are looking for a permanent home, thinking about buying a holiday home in Crete or an investment property there are some really good and inexpensive Crete properties for sale on this the biggest and best Greek Island.
Check out our What, Where and Why guide to Buying in Crete.
It might be useful to take a look at our Crete Property Frequently Asked Questions.
Here's links to other main towns/resorts:

---
Just Some of the Reasons We Love Crete...

Did you love this page? Please share it with your friends!
---
© Copyright All Original Content 2006 - 2023 Completely-Crete.com. All Rights Reserved. Reproduction in whole or in part without permission is not permitted.

Click here to learn about developing your own money-generating website
from Solo Build It! - even with little or no web experience!