Malia Bananas
Go bananas in Malia!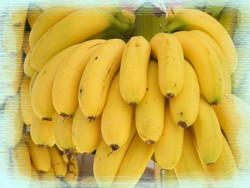 GO BANANAS
Malia is renowned as a young and trendy holiday hotspot here on the Greek island of Crete. The 18 - 30 party crowd have made Malia a Mecca for all sun loving and fun loving young people.
Most have a really wonderful time and consider their Malia holiday as the time of their young lives. But good news seldom hits the headlines and horror stories of rowdy drunkenness, sexual orgies and manic Malia mayhem often makes the tabloid headlines.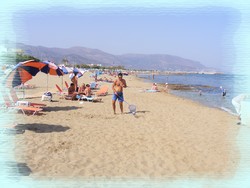 MALIA
But Malia is so much more than tabloid fodder. The old town of Malia is a real Cretan village where a thriving Cretan community carries out their daily lives.
The beaches of Malia are some of the best beaches of Crete and of the entire Greek islands.
The ancient Minoan Palace of Malia is considered as important archeologically and historically as that of the bigger and busier Palace of Knossos.
The wildlife including endemic wild flowers of Crete flourish side by side the throbbing music of the Malia nightspots.
The threatened Sea Daffodil (Pancratium maritimum) and the Pine Thistle (Atractylis gummifera) can be found at Malia Beach for example.

Malia Bananas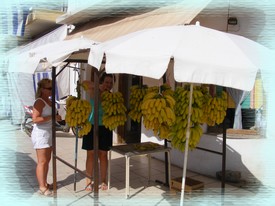 Walk through the main high street at Malia and you'll find little stalls selling bunches of tiny tasty Malia bananas. The little baby Malia bananas have to be tastiest and sweetest in the world and are grown at Malia.
The Malia bananas are of the Dwarf Cavendish variety and are cultivated in small polytunnels. Whenever we're in Malia or passing through we always stop off for a big bunch of the Malia bananas. Delicious!
Malia Banana Club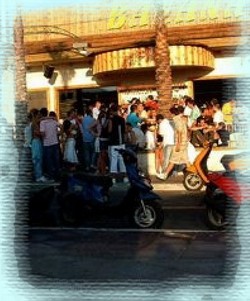 MALIA BANANA CLUB
Many young people flood into the tiny beach resort and go bananas!
Just one of the many night clubs in Malia that the young head for is that of the Banana Club.
You'll find the Malia Banana Club at the heart of the beach road featuring guest DJs from the UK and playing House, Garage and other sounds.
The atmosphere is electric with partying into the small hours. Free entry and opening from 11pm - 4am (and later at weekends).

Malia Banana Boats
BANANA BOATS
Water sports such as jet skis, parasailing, donuts and banana boats are all available at Malia Beach. The popular main beach is always full and the Greek Beach Boys are more than happy to find a sunbathing spot for you. To either the east or west of the main beach you'll find quieter beaches offering a more relaxed beach experience.

Victoria Hislop author of the award winning and bestselling novel The Island, and wife to Ian hislop, TV personality, commentator and editor of Private Eye loves the beaches of Malia. She and husband Ian have a home in nearby Agios Nikolaos and claims that Malia beaches are some of the best on Crete.
We've got to agree.
---
Just some of the reasons we love Crete...


Scenic Views

Family Fun

Tasty Food

Culture

Hiking

Sailing

Country Lanes

Markets

Flora

Respect

Restaurants

Shopping

Olive Oil

Mythology

Ancient History

Nightlife

Beaches

Tradition

Raki

Fresh Fish

Quaint Villages

Birdlife

Romance

The People
---
© Copyright All Original Content 2006 - 2017 Completely-Crete.com. All Rights Reserved. Reproduction in whole or in part without permission is not permitted.

Click here to learn about developing your own money-generating website
from Site Build It! - even with little or no web experience!