Sissi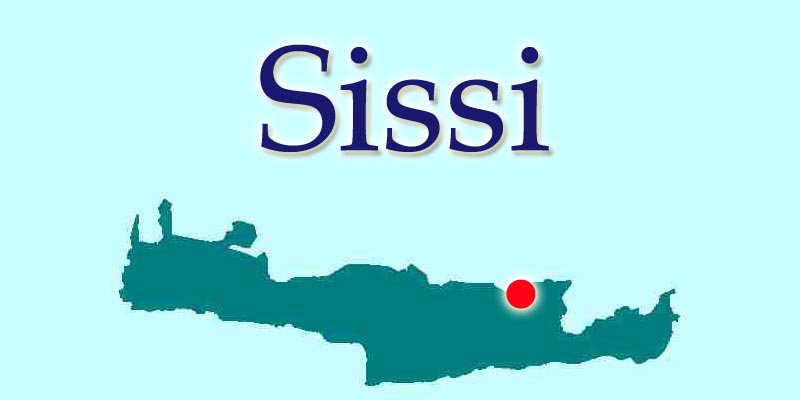 Sissi (sometimes spelt Sisi) village has a variety of local friendly Kafenions, bars and traditional Fish Tavernas. It's a charming resort with a small scenic port and sandy beach. The seaside village is just 25 km from the pretty town of Aghios Nikolaos in the Lassithi region of Crete. Several attractive beaches are within easy walking distance of the village and are featured in our Best Beaches Guide.


Places to See
Served well by the efficient bus service KTEL, Sissi is a scenic coastal bus ride from nearby pretty Agios Nikolaos. Other excursions can take you to nearby Spinalonga, the Minoan Palace of Malia and the Lassithi plain with its windmills.
Monastery of Aghios Georgios
The Monastery of Aghios Georgios (St. George) of Selinari, is located at the side of the gorge of Selinari and is just 3,5 km. from Sissi. It is very popular with tourists and devout worshippers of the Greek Orthodox faith alike. The small chapel was probably founded early in the 16th century, and ever since it is a place of worship with people passing through the chapel stopping to light a candle to the saint.
The chapel is considered miraculous with many claiming miracles have happened there relating to the healing of the sick. The chapel is open to appropriately dressed visitors daily. (To be respectful women should cover their shoulders, midriffs and knees.)
Nature Lovers Paradise
For lovers of flora and fauna the wonderful landscape around Sissi will take your breath away. You can follow biking or trekking paths around the village and explore the picturesque region of Lassithi with its famous mountain plateaux, olive groves, vineyards and traditional villages. Look above you and you're sure to spot the majestic birds of prey that hover above this area.


Minoan History
The Archaeological Site in Malia is just 4 km west of Sissi. The site was inhabited in the Neolithic and early Minoan period (6000- 2000 BC. The Palace of Malia, which covered an area of 7,500 square metres is the third largest of the Minoan Palaces.
Getting there
Sissi is accessible from the mainland and the whole of Europe via Heraklion airport, and the many daily ferry services in Heraklion. Two ships connect nearby Agios Nikolaos daily with the ports of Piraeus and the Dodecanese.
Car Hire around the area of Sisi Lassithi
There are a number of really good car rental companies in and around the Sissi area that can give you the freedom to explore east Crete.
A brilliant and cheap bus service KTEL connects Sissi with many of the villages and towns of western Crete including Agios Nikolaos, Ierapetra, Malia and Stalis.
Staying in Sissi
There are a number of hotels, studios and apartments to stay in Sissi. Or if you prefer, Sissi also has a very well clean camping site located about 500m west of the fishing harbour.


Living in Crete
If you are thinking of living in Crete and buying a property here, you will find some excellent real estate agencies to help you with your choice.
Check out our Crete Property Guides for property throughout the island.
Whether you are looking for a permanent home, thinking about buying a holiday home in Crete or an investment property there are some really good and inexpensive Crete properties for sale on this the biggest and best Greek Island.
Check out our What, Where and Why to Buy in Crete Guide
It might be useful to take a look at our Crete Property Frequently Asked Questions FAQ
---
Just Some of the Reasons We Love Crete...

Did you love this page? Please share it with your friends!
---
© Copyright All Original Content 2006 - 2023 Completely-Crete.com. All Rights Reserved. Reproduction in whole or in part without permission is not permitted.

Click here to learn about developing your own money-generating website
from Solo Build It! - even with little or no web experience!