Buying Crete Property - how to start living the Dream!
This Buying Crete Property page is from the Completely Crete website.
If you are thinking about buying a property on this beautiful Greek Island of Crete then we've lots of information and advice to offer you. Avoiding pitfalls and being aware of the possibility of problems arising now at the planning stage will save lots of money and heartache later on.
Take a look at our
Top Tips
- essential reading for avoiding pitfalls when buying Crete property.
---
Since we moved to Crete we have had a lot of experience dealing with property here. In about 3 years we have bought a property, sold a property at a profit - and rented 2 properties!
The information we've put together from our personal experience and those of others should provide you with all you need to make your well considered and informed decision to buy a property in Crete.
Take a look at a real life experience of living in Crete as featured on the Channel 4 TV programme A Place in the Sun.
What, Why, Where?
Our Crete Property Guides give details on the real estate agencies, estate agents and property developers throughout the island. Covering all the prefectures of Chania, Rethymnon, Heraklion and Lassithi - highlighting property hotspots such as:
Vamos, Kalyves, Almyrida, Plaka, Platanias, Kissamos Kastelli and Paleochora and many more In Chania.
Georgioupolis, Panormo, Kournas, Stavromenos Bali and many more in Rethymno.
Malia, Stalis, Hani Kokkini, Agia Pelagia, Amoudara, Hersonissos, Piskopiano, Matala and many more in Iraklio.
Sitia, Agios Nikolaos, Kritsa, Sissi, Ierapetra, Elounda, Makrigialos and many more in Lasithi.
Our property guides should help you in your search for your perfect plot of land or property.
You may have a good idea about where on the Island of Crete you want to buy your dream home. Perhaps you've spent time there on holiday for example. There are some people of course, who will be uncertain about the location. What do you really want? Quaint quiet village, bustling resort, or town centre?
It's important to know what it will be like living in a particular resort or village, particularly over the winter, certainly if you are considering buying a permanent home.
Check out our What, Where and Why Buyer's Guide to Buying in Crete
Property Search Trips
We strongly recommenced that you shop around before committing to buy. This may take two, three or more trips to make certain you choose the right property for you.
If you haven't found the property of your dreams at the end of your two-week holiday – come back another time.
Be 100% certain that you want to purchase your chosen property. The 'holiday romance' of falling in love with a charming and quaint Cretan cottage may wear off as soon as you board the plane for home.
With your 'Ouzo goggles' removed you may see the property for what it is - a costly pile of rubble that will take a fortune to renovate!
We've got information on cheap flights and car hire companies so that you can make your property search trips with ease.



The Buying Process
Buying a property in Crete is generally straightforward. We found both buying and selling property in Crete relatively uncomplicated. Almost all Crete lawyers speak very good English and smoothly take you through the buying process.
Of course, albeit rarely, problems can arise. But this is a fact of life and not restricted to buying and selling in Crete - you can have problems buying and selling in your home country too!
You'll need a good English speaking Crete lawyer to help you through the buying process. Check out our Lawyers in Crete list that covers the prefectures of Chania, Rethymno, Iraklio and Lasithi.
If you have questions or concerns then it might be useful to take a look at our Crete Property Frequently Asked Questions FAQ too.
We have experienced a lot of talk about Greek "Bureaucracy" and lawyers and other officials operating under so called "Greek Time", but our experience in buying and selling in Crete was not that far removed from such experience in the UK for example.
The Bureaucratic process can be equally bad in the UK. UK lawyers also do things at their own pace and prioritise things their way, just as they do in Greece - I know because I have performed legal conveyancing in England on domestic property.
Finance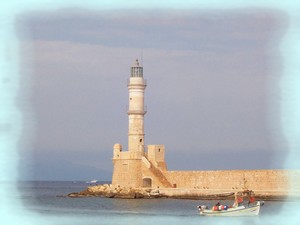 CHANIA
Check out our
Finance Section
for the options available to raise finance to fund your Crete property.
Bear in mind that there are significant differences between buying in Crete and buying property in the UK.
Buyers can expect to pay up to an additional 15% on the purchase price to cover all costs and fees. This is a significant cost and more than you would pay in the UK. These costs and fees will include Registration, purchase tax, notary and legal fees, in total all averaging 12% - 15% of the total sale price.
Buying a property valued at €200,000 (about ₤140,000) will cost you up to €30,000 in fees and costs!
Buyers will pay a 10% deposit and sign a pre-contract agreement that states the names of the buyer and seller, the title, the price and any conditions of the sale. This is signed in front of a notary and the lawyers for both parties. A lawyer then carries out a search on the property and liaises with the local council to fix the "assessed value" (which is usually lower than the purchase price) and, once bought, register the sale at the land registry.
If the buyer backs out after this stage they forfeit this deposit.
Most buying transactions take place with the lawyers doing all the work and are reasonably trouble free (although they almost always invariably take longer that you want - or expect!)
Consider using a specialist currency transfer service to transfer funds to pay for your dream property. Check out our Currency Transfer page for a list of currency companies offering competitive services.
And finally...
If you intend to use your Crete property as a holiday home rather than your permanent residence consider the need for a property management company. We've put together a list of some of the best on the island. Take a look through our Property Management page for more details.
If you're not buying a full time residence in Crete, you might be considering a 'Buy to Let' option. Or perhaps you are hoping to rent out your Crete property when you're not using it. In that case, check out our Buy to Let Guide.
Take a look at our informative Buying in Crete Property Checklist before you decide on buying your perfect place on this paradise island!
Finally, you might be interested in looking at what the press has to say about buying Greek or Crete property in these interesting
press articles

---
Privacy Policy ║ Site Blog ║ Contact Us ║ Send us your Crete Restaurant Review



© Copyright All Original Content 2006 – 2012 Completely-Crete.com. All Rights Reserved. Reproduction in whole or in part without permission is not permitted.

Click here to learn about developing your own money-generating website
from Site Build It! - even with little or no web experience!